Los Hispanos, the European kings of Handball
The EHF Euro 2020 Tournament was a first in many respects. To start with, Sweden, Norway and Austria were all hosting. This decision by EHF simply echoes the fact that Handball is getting traction all over Europe. Indeed there were 24 teams competing for the title this year. We will go over the teams and highlight where results can be found on our Handball edition of the National Team Stats database, a service by SportStatsGuru. But before we do, a round of applause for Spanish handball. Retaining the title was a first for Los Hispanos. Only Sweden had achieved this at the turn of the Millenium.
Spanish handball at its very best
Spain is not a newcomer in the sport. If you look at the Men All-Time Tables in Olympic History, they are actually 3rd in the ranking, behind France and Germany. Them missing the Rio de Janeiro Games in 2016 was rather an accident. Incidentally, it was Denmark, France and Germany who reached the Olympic podium in Brazil. And neither France nor Denmark made it through the stage group at the Euro 2020. Yet another surprise seeing how well they dominated the sport over the last 10 years.
It is Jordi Ribera Romans who led Los Hispanos to success and prior to this, the Spanish handball wizard also coached Brazil. Actually, he only managed to reach the 7th position in Rio. He will be yearning for more in Tokyo, as Spain is automatically qualified. Not the case for France or Germany even, they will have to play battle through the Men's Olympic Qualification Tournaments in April. And not so easy for new French coach Guillaume Gille as vice-champions Croatia is in their group. So is Portugal. Let's review National Team Stats for results against both teams.
The road to Tokyo 2020
As of today, the only qualified teams beside Spain are, and in order of qualification date:
Japan
Denmark
Argentina
Bahreïn
Egypt
The French team should qualify if you look at previous results on our National Team Stats:
France x Croatia: 14 wins vs 9 Losses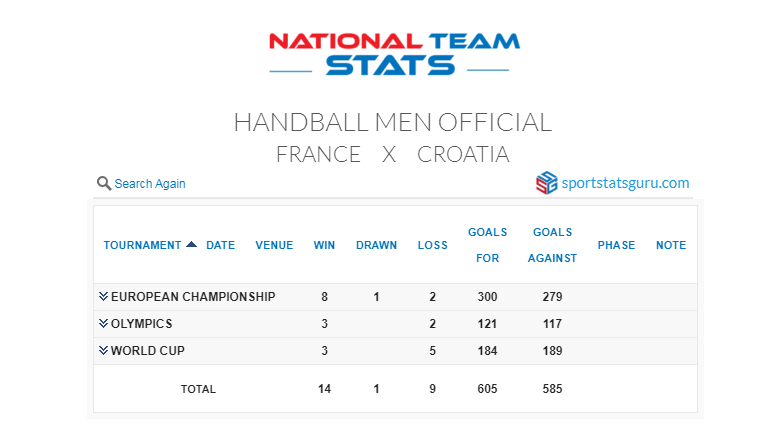 France x Portugal: 8 wins vs 2 losses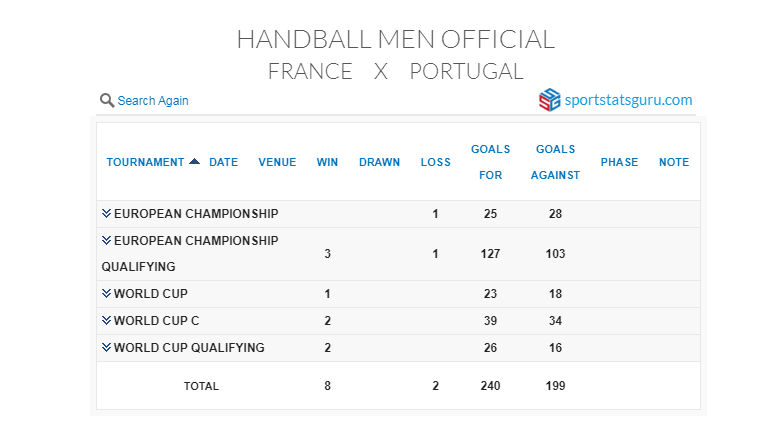 It would be a real shame if France does not qualify for Tokyo 2020. Feel free to check your own team stats, it is very simple. We have a video demo for Football, but same search features for Handball.
And to come back to Spanish handball, Los Hispanos have had more luck in European and World Championships, having won gold 4 times in total. They only managed to get to Bronze 3 times, in Atlanta, Sydney and Beijing. It will be interesting to watch them play in Tokyo.
And for any update on forthcoming statistics, please sign-up below, we are currently compiling data for women's tournaments.