New Sport Statistics: handball preview
Coming soon on your favourite Sport Statistics Database: handball records!
We love handball at SportStatsGuru and we cannot wait for the EH Euro 2020 but it is true that this sport was also a popular request amongst fans and journalists. After soccer, or football, basketball and ice hockey, we are very proud to be announcing that Handball records are about to become available under our Team Stats section.

For our new readers, Team Stats includes any national team statistics for all the championships that we can cover. Each sport is curated carefully and manually, we use information such as:
Tournament
Teams involved
Date
Venue
Outcome (Victory/Loss/Draw)
Goals For
Goals Against
Tournament Phase
Certainly, our editors will add notes at times for example when a country decide not to play, it happens from time to time. Or if the game was won after extra time. In terms of tournament, we will cover handball records for all the events at the bottom of this post with span in brackets.
Get new insights with Sport Statistics visualisation
Before we do so, we also wanted to let you know that these national team stats database are available for purchase in Excel format or in a Tableau package. You will need the free Tableau Reader to interact with the visualisation. Anyway, here is a little preview with the European Championships between 1994 and 2018. This also includes qualifying games.
With visualisation you get some very interesting findings. For a start, on our handball records map for Euro, the tournament does not seem to be very popular in Britain and Ireland.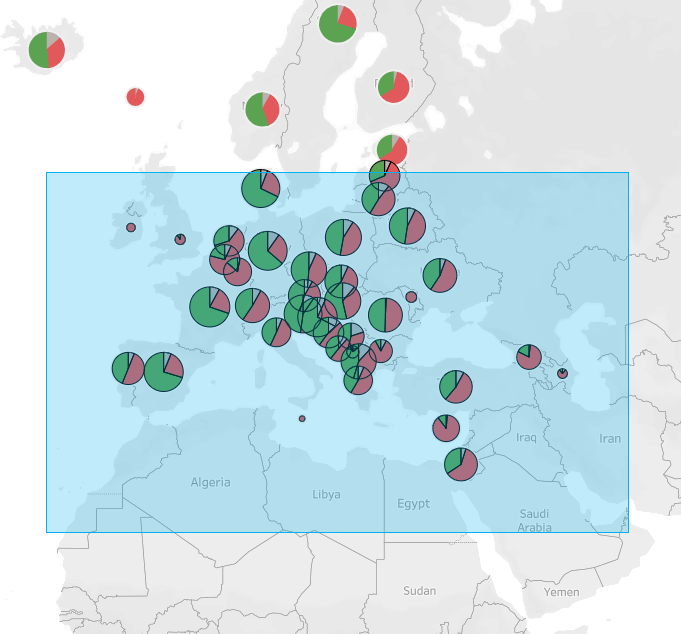 Similarly, another interesting finding is that Turkey played the most games for Euro championships qualifying games.
Finally, it is Spain that have played the most games in the actual Championships. They are currently the reigning champions in Europe. They were runner-ups 5 times and finished twice in Second position. Now to find out more about the games, you can drill down on Spain and voilà: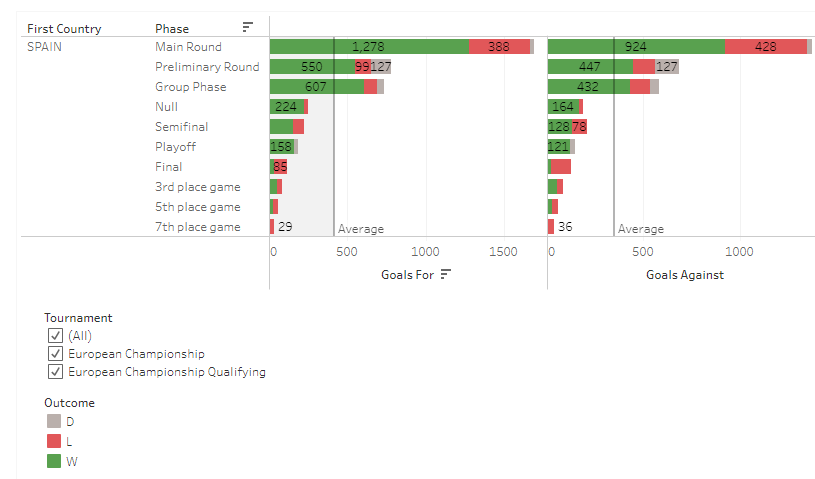 Tournaments included in our handball records
Olympics (1936-2018)
World Cup A (1938-2019)
Goodwill Games (1986-1990)
World Cup B (1977-1992)
World Cup © (1976-1990)
World Challenge Trophy (2010-2015)
US Cup (1995)
Emerging Nations Championship (2015-2019)
Euro Handball (1994-2018)
Euro Challenge (1999-2009)
Africa Championships (1974-2018)
Africa Games (1965-2019)
Africa Zones 2 & 3 (2013)
Africa Challenge (2010)
Oceania Championships (1994-2014)
Oceania Trophy (2010-2014)
Pacific Cup (2006)
Asia Championship (1977-2018)
Asia Trophy (2011-2015)
Asia Trophy Zone 3 (2014)
Asia Trophy Zone 2 (2012)
South American Championship (1983-2004)
ODESUR (2002-2018)
CACG (1993-2018)
CAC Caribe Cup (1998-2013)
North America (2002-2011)
Panamerica (1979-2019)
Nordic (1975-1984)
To be informed about the launch of the complete list of handball records in our sports statistics database, simply leave your details below.