Ice Hockey Alltimetable Women World Championship 1990-2019
Note: All regular time wins and losses gives three and zero points respectively. Sudden death and penalty wins and losses yields two and one point respectively.
2003: No tournament was played due to the SARS epidemic.
2002, 06, 10 & 14: No tournament because of the Olympics.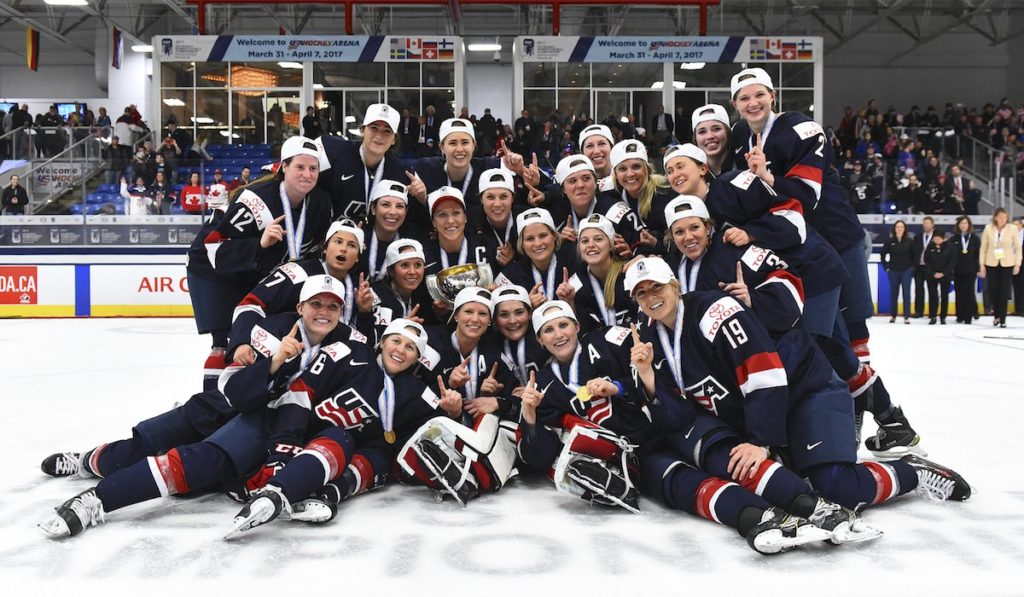 USA has overtaken Canada as the leading nation in womens ice hockey. Smiling to the camera are the 2017 winners. (Source: 2017womensworlds.com).
| | | | | | | | | | | |
| --- | --- | --- | --- | --- | --- | --- | --- | --- | --- | --- |
| TEAM | T | GP | W3 | OTW | D/OTL | L | GF | GA | GD | P |
| United States | 19 | 97 | 77 | 5 | 7 | 8 | 636 | 140 | 496 | 248 |
| Canada | 19 | 97 | 75 | 5 | 4 | 13 | 605 | 128 | 477 | 239 |
| Finland | 19 | 104 | 48 | 6 | 5 | 45 | 356 | 278 | 78 | 161 |
| Sweden | 19 | 93 | 40 | 6 | 11 | 36 | 279 | 302 | -23 | 143 |
| Russia | 16 | 82 | 26 | 3 | 6 | 47 | 168 | 366 | -198 | 90 |
| Switzerland | 16 | 78 | 24 | 5 | 7 | 42 | 169 | 346 | -177 | 89 |
| Germany | 14 | 68 | 19 | 3 | 7 | 39 | 117 | 310 | -193 | 70 |
| China | 11 | 51 | 16 | 1 | 5 | 29 | 123 | 236 | -113 | 55 |
| Czech Republic | 4 | 21 | 7 | 1 | 3 | 10 | 42 | 55 | -13 | 26 |
| Japan | 8 | 36 | 5 | 3 | 2 | 26 | 56 | 164 | -108 | 23 |
| Norway | 4 | 20 | 4 | 0 | 1 | 15 | 42 | 123 | -81 | 13 |
| Slovakia | 2 | 10 | 2 | 1 | 1 | 6 | 12 | 27 | -15 | 9 |
| Kazakhstan | 5 | 23 | 0 | 2 | 2 | 19 | 19 | 126 | -107 | 6 |
| France | 1 | 5 | 0 | 1 | 0 | 4 | 7 | 13 | -6 | 2 |
| Denmark | 1 | 5 | 0 | 1 | 0 | 4 | 7 | 24 | -17 | 2 |