Legend to the abbreviations in the Field Hockey tables: T = Tournaments participated in GP = Games played W = Games won D = Games drawn L = Games lost GF = Goals for GA = Goals against GD = Goal difference P = Points (3 for a win and 1 for a draw) W% = Games won in % of all games.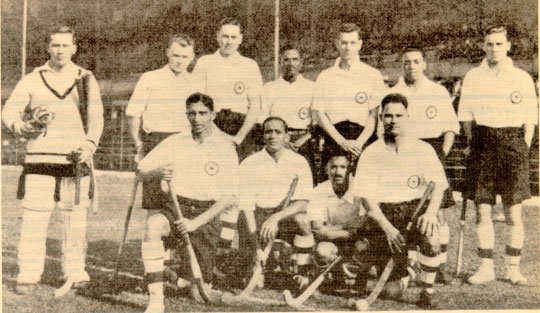 The 1928 India team that played five games without conceding a single goal! (Source: By Bharatiya Hockey – http://www.bharatiyahockey.org/granthalaya/goal/, Copyrighted free use, https://commons.wikimedia.org/w/index.php?curid=6861402)
Field Hockey made it'S debut in London 1908 but it is India's success story that is worth noting. India have eight gold medals in the men's field hockey Olympics. Six of these came in a row from 1928-56, the others in 1964 and in 1980. In fact the Indians played 25 games in a row without losing a single point 1928-56! Remarkable, indeed. And to add to the superiority they managed medals in all games 1928-80, except in 1976 when they very surprisingly did not make it past the group phase.
Men Alltimetable Olympic Games 1908-2021
RANK

TEAM

T

GP

W

D

L

GF

GA

GD

P

1
.

India

21

134

84

14

36

458

186

272

266

2

Germany

20

127

78

22

27

313

166

147

256

3

Netherlands

19

128

78

14

36

321

205

116

248

4

Australia

16

118

72

15

31

322

153

169

231

5

Pakistan

16

107

70

12

25

294

142

152

222

6

Spain

18

119

51

26

42

237

186

51

179

7

Great Britain

18

112

50

23

39

225

199

26

173

8

Belgium

15

82

37

11

34

174

163

11

122

9

New Zealand

13

85

32

17

36

161

157

4

113

10

Argentina

12

80

21

13

46

140

210

-70

76

11

Malaysia

8

59

16

12

31

80

128

-48

60

12

Kenya

7

49

15

7

27

61

101

-40

52

13

South Korea

6

40

13

9

18

89

85

4

48

14

France

9

40

9

4

27

37

100

-63

31

15

Japan

5

30

9

2

19

49

90

-41

29

16

Soviet Union

3

20

9

1

10

60

50

10

28

17

Poland

5

26

7

6

13

60

72

-12

27

18

Canada

8

50

6

9

35

61

159

-98

27

19

South Africa

5

31

5

5

21

64

109

-45

20

20

Denmark

5

16

4

2

10

33

63

-30

14

21

Switzerland

5

16

3

3

10

15

39

-24

12

22

East Germany

1

8

3

2

3

9

11

-2

11

23

Afghanistan

3

8

2

2

4

15

39

-24

8

24

Great Britain – England

1

2

2

0

0

14

2

12

6

25

Great Britain – Ireland

1

3

2

0

1

14

10

4

6

26

Singapore

1

3

2

0

1

11

7

4

6

27

Uganda

1

8

1

3

4

10

15

-5

6

28

Cuba

1

6

2

0

4

11

43

-32

6

29

Austria

3

9

1

2

6

5

29

-24

5

30

China

1

6

1

1

4

11

19

-8

4

31

Zimbabwe

1

6

1

1

4

4

16

-12

4

32

Italy

2

6

1

1

4

3

21

-18

4

33

Great Britain – Scotland

1

2

1

0

1

5

6

-1

3

34

Hungary

1

3

1

0

2

4

8

-4

3

35

Ireland

1

5

1

0

4

10

16

-6

3

36

Malaya

1

3

0

2

1

5

6

-1

2

37

Hong Kong

1

7

0

1

6

3

26

-23

1

38

Great Britain – Wales

1

1

0

0

1

1

3

-2

0

39

Finland

1

1

0

0

1

0

6

-6

0

40

Brazil

1

5

0

0

5

1

46

-45

0

41

Egypt

2

14

0

0

14

14

68

-54

0

42

Tanzania

1

6

0

0

6

4

58

-54

0

43

Mexico

2

16

0

0

16

4

71

-67

0

44

United States

6

25

0

0

25

20

143

-123

0
Women Alltimetable Olympic Games 1980-2021
| | | | | | | | | | | |
| --- | --- | --- | --- | --- | --- | --- | --- | --- | --- | --- |
| RANK | TEAM | T | GP | W | D | L | GF | GA | GD | P |
| 1 | Netherlands | 10 | 67 | 51 | 6 | 10 | 166 | 82 | 84 | 159 |
| 2 | Australia | 10 | 61 | 41 | 8 | 12 | 146 | 56 | 90 | 131 |
| 3 | Germany | 10 | 61 | 32 | 8 | 21 | 106 | 94 | 12 | 104 |
| 4 | Great Britain | 8 | 53 | 28 | 6 | 19 | 101 | 85 | 16 | 90 |
| 5 | Argentina | 8 | 54 | 28 | 4 | 22 | 106 | 87 | 19 | 88 |
| 6 | South Korea | 8 | 47 | 16 | 7 | 24 | 95 | 102 | -7 | 55 |
| 7 | China | 6 | 36 | 15 | 5 | 16 | 52 | 49 | 3 | 50 |
| 8 | Spain | 7 | 43 | 13 | 6 | 24 | 50 | 85 | -35 | 45 |
| 9 | New Zealand | 8 | 50 | 13 | 4 | 33 | 64 | 109 | -45 | 43 |
| 10 | United States | 6 | 35 | 10 | 7 | 18 | 53 | 62 | -9 | 37 |
| 11 | Japan | 5 | 28 | 5 | 3 | 20 | 28 | 61 | -33 | 18 |
| 12 | India | 3 | 18 | 5 | 2 | 11 | 24 | 45 | -21 | 17 |
| 13 | South Africa | 5 | 28 | 5 | 1 | 22 | 35 | 80 | -45 | 16 |
| 14 | Canada | 3 | 15 | 4 | 2 | 9 | 20 | 32 | -12 | 14 |
| 15 | Zimbabwe | 1 | 5 | 3 | 2 | 0 | 13 | 4 | 9 | 11 |
| 16 | Czechoslovakia | 1 | 5 | 3 | 1 | 1 | 10 | 5 | 5 | 10 |
| 17 | Soviet Union | 1 | 5 | 3 | 0 | 2 | 11 | 5 | 6 | 9 |
| 18 | Austria | 1 | 5 | 2 | 0 | 3 | 6 | 11 | -5 | 6 |
| 19 | Belgium | 1 | 6 | 1 | 2 | 3 | 4 | 11 | -7 | 5 |
| 20 | Ireland | 1 | 5 | 1 | 0 | 4 | 4 | 11 | -7 | 3 |
| 21 | Poland | 1 | 5 | 0 | 0 | 5 | 0 | 18 | -18 | 0 |